Medically reviewed by Sophia Yen, MD, MPH – Written by Pandia Health Editorial Team
At Pandia Health, we're all about empowering you in your reproductive decisions. That's why, this month, we're bringing you sex positive content. It's time to celebrate your body and sexual expression by learning more through these amazing content creators!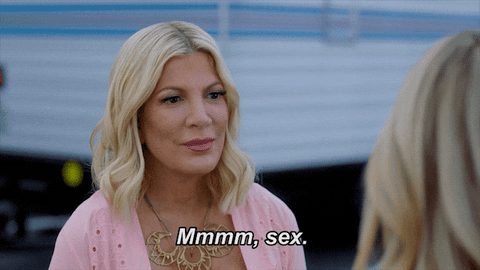 If you're ready to get it on during quarantine and want to #SkiptheTrip to the pharmacy, sign up today with Pandia Health to get FREE delivery of your birth control straight to your mailbox – plus automatic refills!
You may be planning a pregnancy for better times after this global pandemic – Pandia is here to make the process contact-free and reliable. If you have insurance, everything is free at the click of a button!
The Sex Positive Movement
The term sex-positivity is meant to address the way we look at sex. In North America, for example, sex is often seen as shameful. Anything besides penis-in-vagina intercourse is often looked down upon and is even illegal in some states. Many of these laws have gone unrevised from church laws, where sex was acceptable only for reproductive reasons.
The sex positive movement has ties running back to the 1960s counterculture and sexual liberation. It has gained a public platform in the 21st century with social media and we are embracing it!
These handful of sex positive content creators are sexual educators, doctors, and other professionals working to de-stigmatize sex, celebrate body positivity, debunk misinformation and myths, and advocate for safe, enjoyable, and consensual sexual expression.
Our Fave Sex Positive Creators
Laci Green
Laci Green was one of the OG sex positive content creators back in 2007 and has just come back to the platform to give us even more regular content. Laci's videos cover topics like BDSM, polyamory, sex toys, lubrication, and consent. She even brings in guests from different sex and gender orientations to represent multiple identities. 
She was recognized by Time as one of the "30 most influential people on the internet", wrote a book titled Sex Plus: Learning, Loving, and Enjoying Your Body, and now has a podcast, "Indirect Message". What can't she do! 
One of the pillars of sex positivity is body positivity and Sonalee Rashatwar is here to give us just that. A licensed social worker and sex therapist, her content is frequent, political, and inclusive. Her methodology includes decolonizing sexuality from stigmas or oppressive colonial norms. 
According to her website she is a "superfat queer bisexual non-binary therapist" who brings awareness to the South Asian identity in the United States, and specializes in sexual trauma, identity, and body image issues. She offers therapy and you can even sign up to become her client in these virtual times at the Radical Therapy Center!
Sexplanations
Dr. Lindsey Doe launched her YouTube channel with the help of the vlogbrothers in 2013 and now has over 800k subscribers. A sexologist with a doctorate, she has sex positive content abound. 
She is an enthusiastic educator and talks about sex with contagious joy. Her videos include intimacy roleplay, informational diagrams of genitalia, sex myth debunking, and masturbation guides. Some of her videos are sponsored by a sex toy company and she shares how to make your own toys or use the ones you already have.
Hannah Witton
Hannah Witton is a British YouTuber and sex educator. She is best known for her "Hormone Diaries" series which shows her experience coming off of the pill for the first time in years. She had skipped her period since being a teen and used her online platform to document how her body responded to having it again. 
It's amazing that you can choose to skip your period for so long just by using birth control! Pandia Health's #PeriodsOptional mission supports you in just that – it's a safe, easy, and effective way to say goodbye to your period for however long you want! 
Witton is refreshingly open about contraception and living with a disability. She shares her journey living with both stoma and ulcerative colitis, an inflammatory bowel disease, that forced her to have her colon removed.
Sex educators like her make sex positive content enjoyable and relatable. If you want more, check out her old podcast where she reads sex positive books with her friends, or her current one about all things sex!
Ev'Yan Whitney
Ev'Yan Whitney has a story many people who grew up with sex stigmatization can relate to. As a new wife, she felt guilty about not enjoying sex with her husband and proceeded to embark on a sexual liberation journey – which is now her life's passion. 
She describes herself as a sexuality doula, a term she coined for the deep emotional work she does to embrace sexual healing and liberation, and helping others through that process themselves. She offers workshops and courses on her website if you would like to take a sexual liberation journey of your own.
From being ashamed of sex to embracing and thriving in it, she came a long way herself and wants to help others do the same. Listen to her podcast The Sexually Liberated Woman to feel like your best self, sexually and spiritually, and follow her on Instagram for all her feel-good and sex positive content. 
Mama Doctor Jones
There are many YouTube doctors out there helping to debunk misinformation and making medical facts accessible to the public. Along with our very own CEO and Co-founder, Dr. Sophia Yen, Mama Doctor Jones YouTube channel is a great place to get reproductive medical knowledge. 
Mama Doctor Jones is a mother of four, a Texan, and an Ob/Gyn. She is passionately trans inclusive and sex positive, empowering people with uteri with medical facts to make the best decisions for themselves. The occasional "Doctor React to 'I Didn't Know I Was Pregnant'" is a fun bonus filled with interesting pregnancy facts. 
Pandia Health
Pandia is here to support and empower you! As a women-founded, women-led, doctor-led company we want what's best for you, even if it doesn't make us money in the end. Dr. Yen's Trendy Tuesdays and Q&A videos promote reproductive health freedom of choice and sex positivity. 
Stay tuned for more sex positive content from our team this month! 
Make sure to sign up to get your birth control delivered today. If you need a prescription and live in AZ, CA, CO, FL, GA, IL, MI, NV, TX, TN, PA, WA, or WY, one of our expert doctors can write you one. 
Disclaimer: The above information is for general informational purposes only and is NOT a substitute for professional medical advice. Always seek the advice of your doctor/primary care provider before starting or changing treatment.