Medically reviewed by Sophia Yen, MD, MPH – Written by Carmiya
Happy Holidays, Pandia pals!
Raise your hand if you're still running your holiday gift errands ?‍♀️
Then put your worries aside: I've got a list of the BEST presents to get your friends and family – and yourself! You've got to treat yourself too, hunny!
Now, these aren't regular gifts to stuff your stockings with — this is our reproductive health edition after all!
So get ready to lead the reproductive justice fight and put some smiles on your pals' faces with these feminist-a gifts!
Don't forget that you can get your birth control in your stocking this year! Sign up for FREE delivery of your birth control today!

If you're physically in AZ, CA, CO, FL, GA, MI, IL, NV, TX, TN, PN, WA, or WY, you can sign up for an online birth control doctor consult today (it includes FREE delivery, automatic refills, & goodies in every birth control mailer)! It's only $29 ONCE a year to gain access to Pandia Health's expert birth control specialist doctors.

And for those of you who do not have insurance, Pandia Health has a special present: FREE online doctor consult when you sign up for a 1-year subscription plan. This will SAVE you $29 that you can use on more Holiday presents! Don't let it go, it is there for a limited time only!
Here's to a happy Hanukkah, Kwanzaa, and Christmas for all!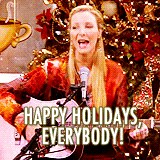 Make an even bigger splash with these: snap a pic and tag @PandiaHealth to inspire all those who want to make a statement with their Holiday gifts!
Go to www.pandiahealth.com to get birth control pills, patch, and ring as well as emergency contraception with FREE delivery!
The above information is for general informational purposes only and is NOT a substitute for professional medical advice. Always seek the advice of your doctor/primary care provider before starting or changing treatment.