Medically reviewed by Sophia Yen, MD, MPH – Written by Pandia Health Editorial Team
Get the Best care in Telemedicine
The good, the bad, and the ugly
With COVID-19, more people are turning to telemedicine (seeing the doctor by video or online) to decrease the risk of getting an infection from going into the office/hospital. However, not all telemedicine companies are created equal, meaning there are the good and then there are the not as good. Here are some important qualities that you might want to take into account when choosing your telemedicine provider.
Experience in the specific field you need help with e.g. birth control
First and foremost, how much experience does your provider have? If no experience is listed at all, that is a red flag. Ensure that you are virtually seeing a doctor who has experience in the field you are asking for help (like you don't want an eye doctor or doctor who doesn't work much with women providing you birth control ); a doctor with at least 10 years of experience listed is a good sign.
Also, look for the doctor's area of expertise, because if you have specific questions or concerns, it's better to have an expert. Furthermore, a doctor may also have particular areas of interest or focus. For example, Pandia Health's CEO and Co-Founder, Dr. Sophia Yen, is trained in reproductive health matters, but is also knowledgeable about weight-management and other adolescent and young adult issues like acne.
Transparency in Telemedicine: Do they list their doctors?
When looking for a good telemedicine provider, listing their doctors' experience and transparency go hand in hand. Not only should a doctor's experience be listed, but also the full list of doctors with First and Last Names should be listed, too. If a website only shows the Chief Medical Officer and not the physicians/providers, look elsewhere.
You have the right to know the doctors/providers that will be treating you, including their area(s) of expertise, their first and last name, and their training (where did they go to medical school? where did they do their residency? did they do a fellowship to specialize? are they an academic doctor? are they affiliated with a university?)
As a patient, there is peace of mind in knowing who has your health in their hands. Having a doctor biography listed on a website is important in establishing trust with your doctor — a doctor's background is also good to know especially if you have specific medical concerns. Transparency provides comfort and helps to establish trust between the healthcare professional and the patient. Knowing where a doctor went to medical school and completed her residency and fellowship is not too much to ask, it is what you as the patient deserve to and should know.
Quality Care: Fast is not Best
When it comes to your health, you want to see someone who cares as much about your health as you do. A thorough doctor will ask lots of questions, take the time to understand the problems you are having, address any questions you may have, and give you her undivided attention. When a doctor is eager to move quickly through your appointment and doesn't ask all the important questions, the quality of your care suffers.
Part of having top-notch quality care is a doctor that is willing to say, "No, it is not safe for you." A doctor with limits is a good thing. Seeing a doctor that will give you anything you want puts you at risk — getting what you want versus getting what you need can be different; risking health problems like antibiotic resistance or blood clots is dangerous. It is better to see a doctor who will tell you when something is not in your best interest like antibiotics for a virus (antibiotics do not kill viruses).
Informed Consent
As a patient, you have a right to know all of your options. Seek out a doctor using telemedicine who lays out all of your options rather than one who confuses "standard of care" and "informed consent" with trying to make the most money for their company (profit motive). For example, for birth control, the company should offer you at least 3 options: the birth control pill, patch, and ring.
Health Focused vs Money Focused
You should not have to "opt out" of services, meaning there are some telemedicine companies that say "we're going to send you this unless you tell us no" or "you have to take it OUT of your shopping cart."
In general, a profit focused telemedicine practice will push the more profitable option like the 1 year birth control ring vs. the 1 month birth control ring. Thus, it is important to choose a telemedicine provider that gives you options when it comes to your care so that you not only receive quality care, but also you are not overcharged or pushed to charge your insurance for something you don't need.
Unfortunately, there are companies and practices that are trying to make the most money off of you (or your insurance) versus providing the best healthcare. Knowing what to look for when it comes to choosing a telemedicine provider can save you a lot of money.
Look for a company that has a Founder/CEO who has taken the Hippocratic oath ("Do No Harm") like Pandia Health! Some Founders/CEOs want to make the most money possible and will take short cuts, which puts you, as the patient, at risk. It is also a good sign when the Founder/CEO is a doctor such as Dr. Yen. If the Founder/CEO is a lawyer or an MBA, that could be a sign that the company or practice could be very profit driven and not as health-focused. As a patient/customer, your health does not deserve to be put on the back burner.

At Pandia Health, our CEO Dr. Sophia Yen says, "We will always tell you what's best for your health, even if it's not best for our bottom line. We will make money, but we don't have to do it by pushing products you don't need or pushing 2nd rate care. "

We also try to save you money. At Pandia Health, birth control pills are "FREE" (= no copay, no deductible) for those with health insurance under the Affordable Care Act. If you do not have insurance, most birth control pill packs cost as low as $15/pack, and if you cannot afford to pay, Pandia Health has a need-based "Birth Control Fund" that you can apply to.
Up To Date on the Latest & Greatest
Everyone wants to have an informed, smart doctor – that is why people go to them. No one should go to a doctor without expertise and leaving with questions unanswered. Your doctor should be up to date on the latest and greatest information and products within medicine. For example, your doctor should know that 30mcg estrogen is best for bone health for those with uteri under the age of 30 years old and that Plan B and its generics are not good for people with a BMI of 26 or greater. Doctors should be armed with the latest information within their field of expertise and be able to answer your questions. If they cannot, it is time to look elsewhere.
Pandia Health's doctors have been vigorously trained, have expertise in birth control, and the academic doctors are constantly kept on their toes by medical students, residents, fellows who ask "Why are you doing it that way? The latest paper says do this."
Get Pandia Peace of Mind
At Pandia Health, we prioritize you as our patient. Our doctors are birth control experts and constantly keeping up to date with developments within birth control and women's health. We are a company you can trust that offers doctor consultations online in a safe and secure manner. Pandia Health is the ONLY Doctor Led, Women Founded, Women Led company in birth control delivery.
If you are looking to get your birth control with FREE delivery, check out how Pandia Health allows you to #SkipTheTrip to the pharmacy. Birth control can also be used for much more besides preventing unintended pregnancy. Acne and heavy or painful periods can all be treated using birth control. If you are interested in how to get started or have any questions, do not hesitate to send an email to info@pandiahealth.com or call (650) 437-1213.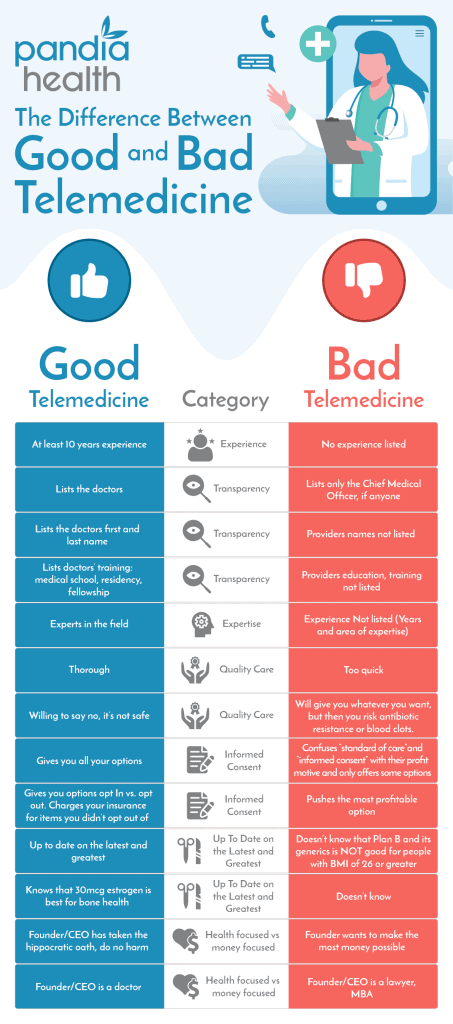 Disclaimer: The above information is for general informational purposes only and is NOT a substitute for professional medical advice. Always seek the advice of your doctor/primary care provider before starting or changing treatment.