Some of our patients have been curious about the Coronavirus and the team here at Pandia Health wanted to share with you some information about COVID-19 to help calm and assist.
Background on the COVID-19
Although first detected in Wuhan, China, COVID-19 (also known as the "coronavirus") has spread throughout different countries and was just declared a pandemic by WHO. It is important to take simple precautions and be aware of prevention methods and symptoms in order to protect yourself and those around you.
How COVID-19 Spreads
Coronavirus Disease 2019 (COVID-19) is thought to be spread by respiratory droplets when an infected person coughs or sneezes. It may be possible that a person can get COVID-19 by touching a surface or object that has the virus on it and then touching their own mouth, nose, or eyes, but this is not thought to be the main way the virus spreads.
Who's Affected by COVID-19
Although the virus can affect people of all ages, sex, or ethnicity, there are risk factors that can increase the likelihood of a person dying from the virus.
Risk factors: The risk is mainly in those 50 and older and who have underlying chronic heart/lung diseases, diabetes, and/or cancer. To provide some peace of mind to parents, there have been NO deaths in those ages 0-9 years old. And the death rate for those 10-19 years old is 0.2%
Symptoms of COVID-19
Symptoms of COVID-19 include:
Fever
Persistent Coughing
Shortness of breath
Symptoms may start 2 to 14 days after exposure to the virus. If you have body aches so severe that you feel like you got run over by a car, you most likely have the flu and NOT COVID-19.
Note: these symptoms are common with other illnesses like the flu or common cold. If you have one or more of the above symptoms, it does NOT mean you have COVID-19.
Great resource with statistics on Symptoms of Hospitalized patients: https://www.worldometers.info/coronavirus/coronavirus-symptoms/
From "Is it allergies, the flu, or coronavirus COVID-19?"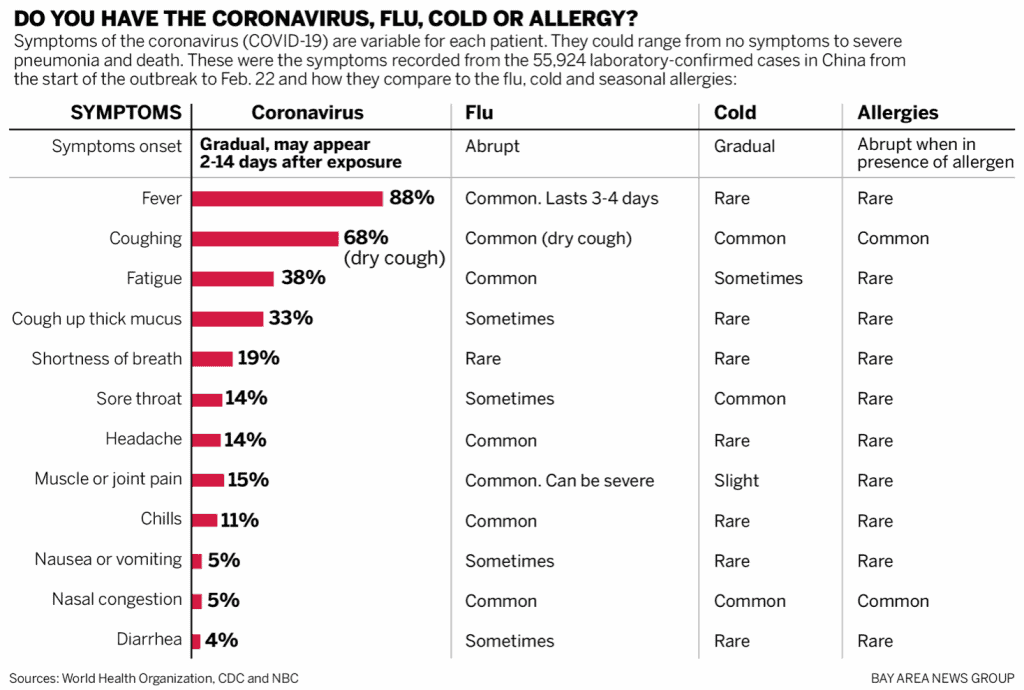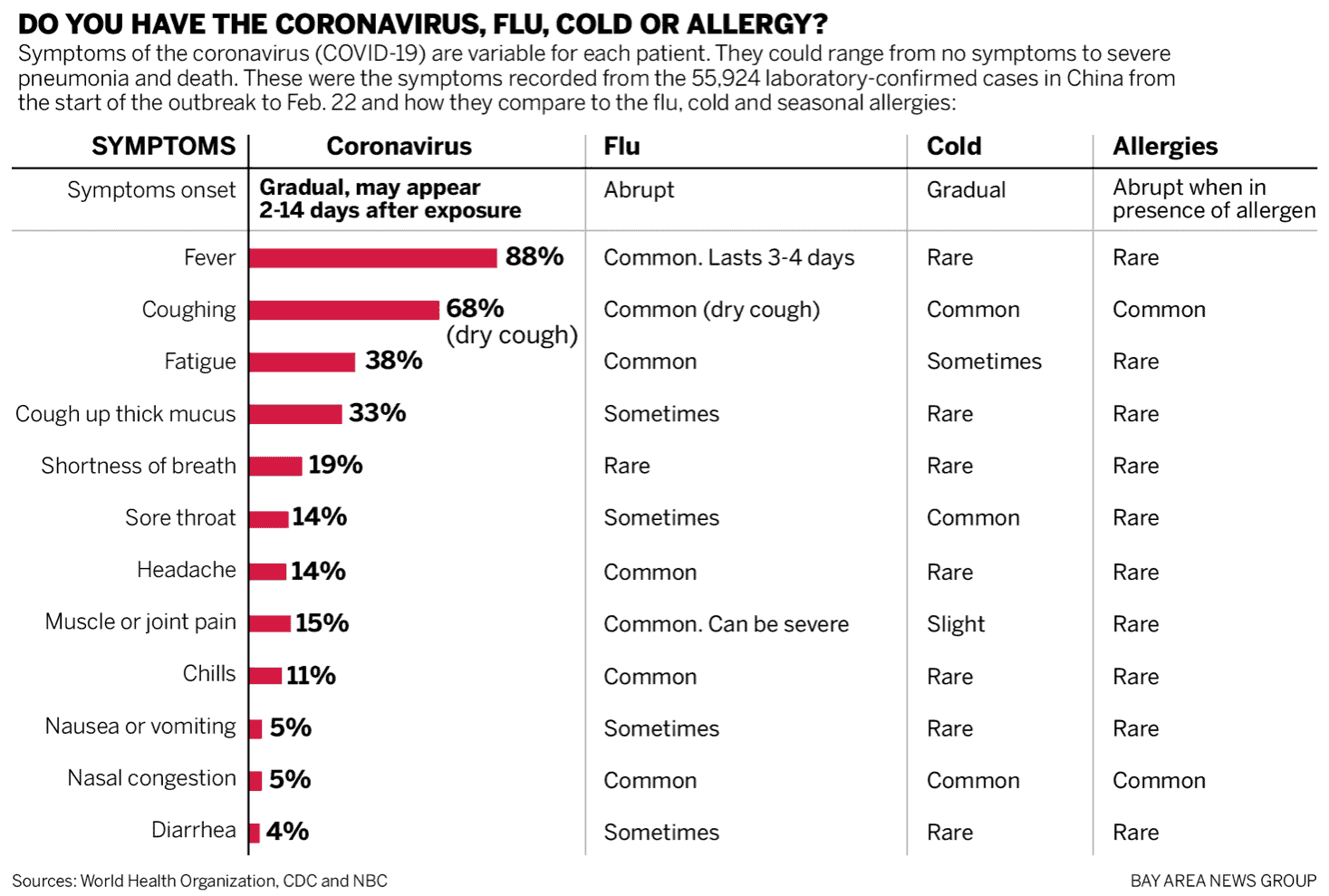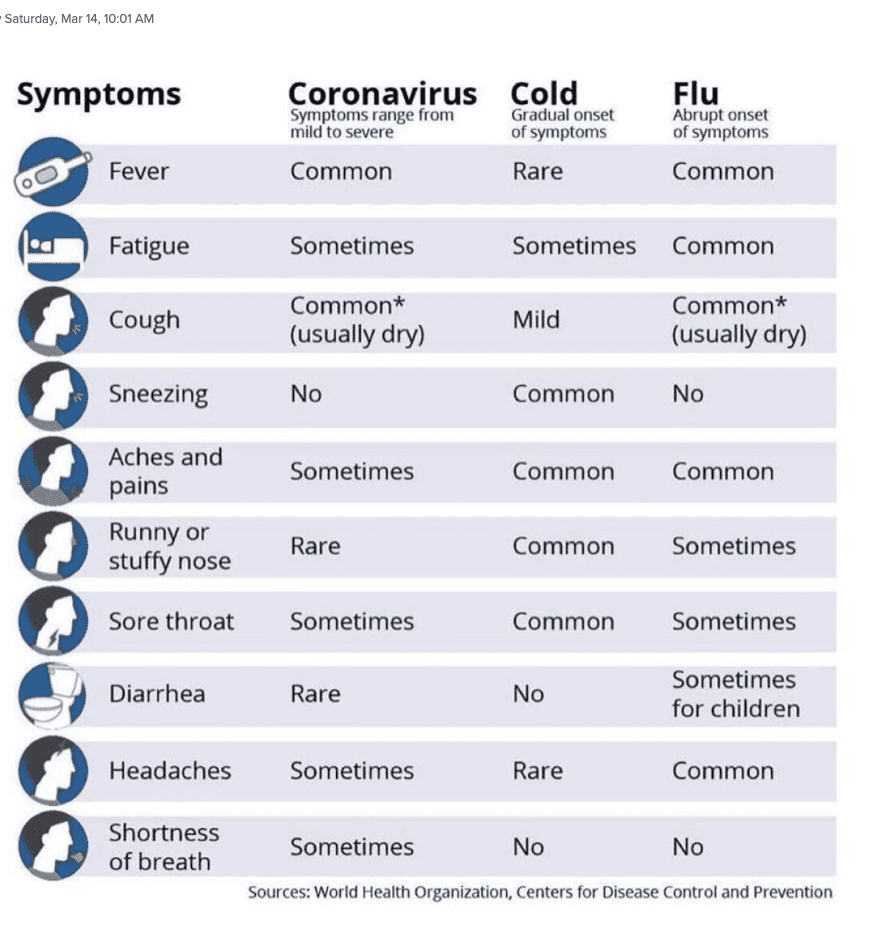 80% of cases are mild
Based on all 72,314 cases of COVID-19 confirmed, suspected, and asymptomatic cases in China as of February 11, a paper by the Chinese CCDC released on February 17 and published in the Chinese Journal of Epidemiology has found that:
80.9% of infections are mild (with flu-like symptoms) and can recover at home.
13.8% are severe = severe diseases e.g. pneumonia and shortness of breath.
4.7% as critical and can include: respiratory failure, septic shock, and multi-organ failure.
Most cases are undetected (we don't have the tests) and possibly asymptomatic. "If we have 3,500 confirmed cases in the U.S., you might be looking at 35,000 in reality," said Jeffrey Shaman, senior author Science Magazine. The milder cases are "half as infectious but cause 80% of the cases." https://www.nytimes.com/2020/03/16/health/coronavirus-statistics-undetected.html
Tips & General Precautions
(from NYT)
Wash your hands properly (watch this video) and at least for 20 seconds with soap and water.
Touch your face (eyes, nose, mouth) less.
Stay 6 feet away from anyone coughing/sick. Don't shake hands.
If you have a fever and cough, stay home if you can.
Make sure you have food for 14 days e.g. canned goods, frozen goods.
How to avoid COVID-19 on a plane: (from CDC)
Wipe down the arm rest, the tray table, the buckle, air vent, and if you are on the window, the window area that you might lean against/touch.
Don't touch your face (eyes, nose, mouth), with unwashed hands.
It is especially important to clean hands after going to the bathroom; before eating; and after coughing, sneezing, or blowing your nose.
Stock Up on Important Medications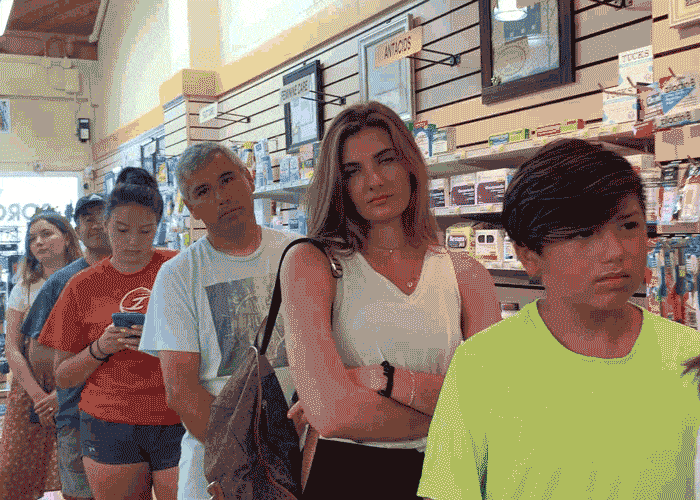 Former Head of CDC, Tom Frieden, M.D., M.P.H., recommends that people secure a 3-month supply of important medications. Getting your 90-day prescription delivered can save money & eliminate trips to the drugstore/pharmacy/doctors office– where you might encounter people who are sick. Friedmen suggests discussing with your insurer if your coverage offers an extended-day supply.
If you have an active birth control prescription, get your refills delivered straight to your mailbox. Avoid places that you may encounter sick people, such as the pharmacy or doctor's office. Delivery is always FREE and we take most insurances. Depending on your insurance, we can provide you 3, 6, or 12 months worth of birth control in one mailer.
If you need a birth control prescription, no need to go into the doctor's office. For those in California, Florida, or Texas, Pandia Health's team of expert birth control doctors can write you your prescription (if safe). All you have to do is answer 20 health questions from the comfort and safety of your own home — safe & confidential. Sign Up Today!
SHARE Pandia Health with any friends that need to #SkipTheTrip to the pharmacy each month!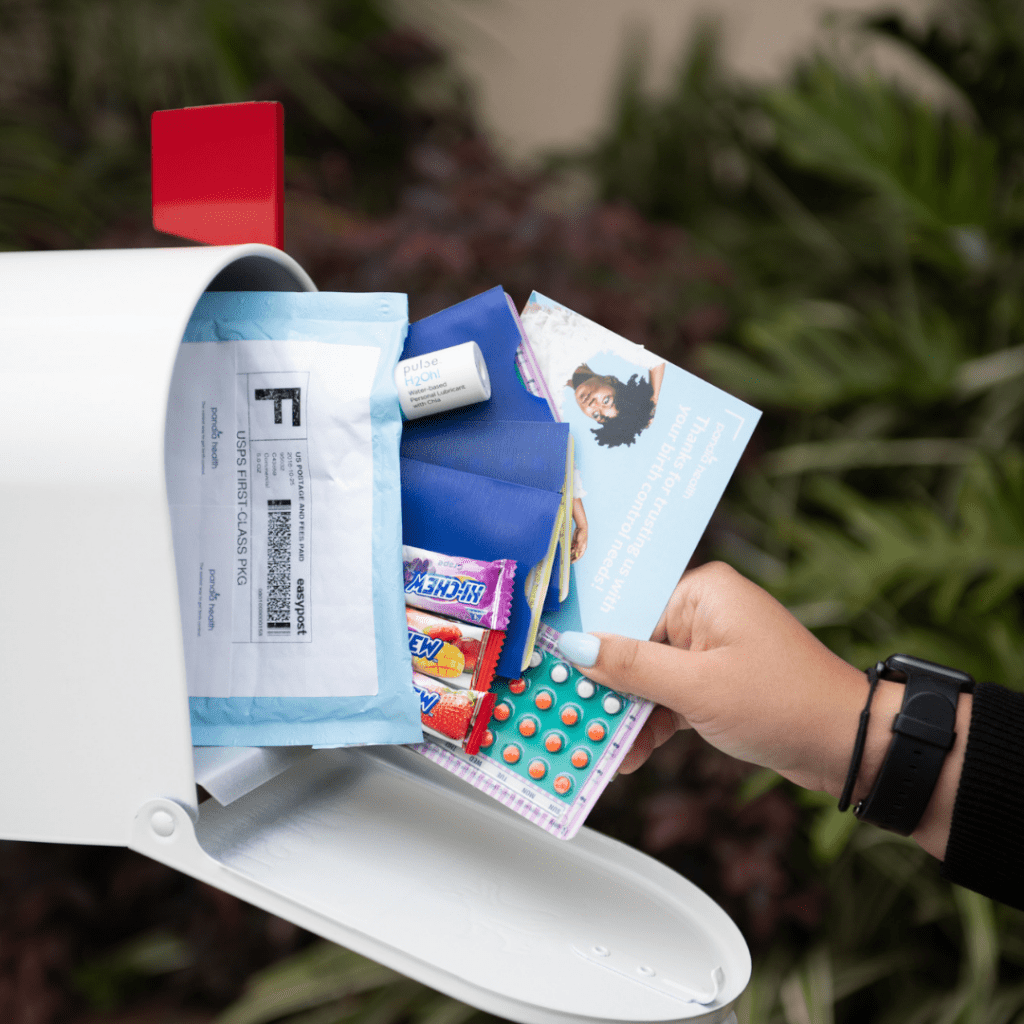 Resources:
Great map/resource by Johns Hopkins University
https://coronavirus.jhu.edu/map.html
New York Times videos on best way to wash hands:
# of Hospital beds needed versus what we have, Number of ICU beds needed for COVID
Graph of hospital beds needed vs hospital beds available and shortage and same for ICU beds. by University of Washington https://covid19.healthdata.org/projections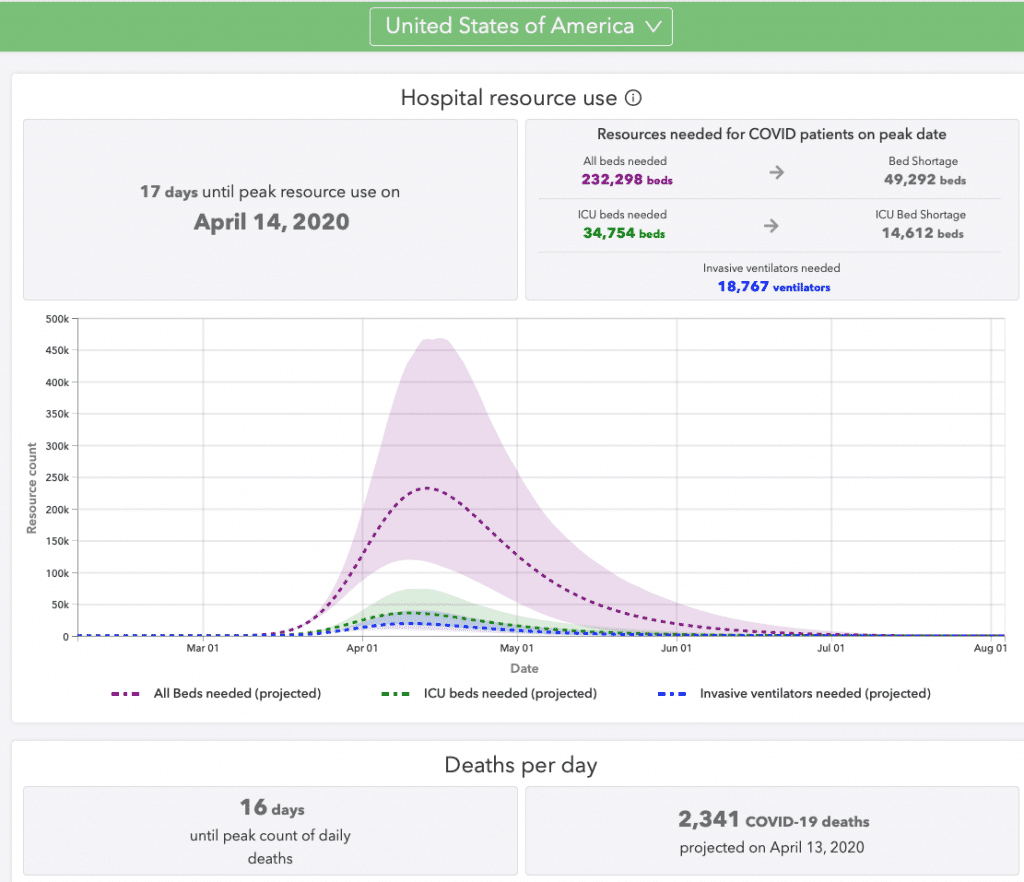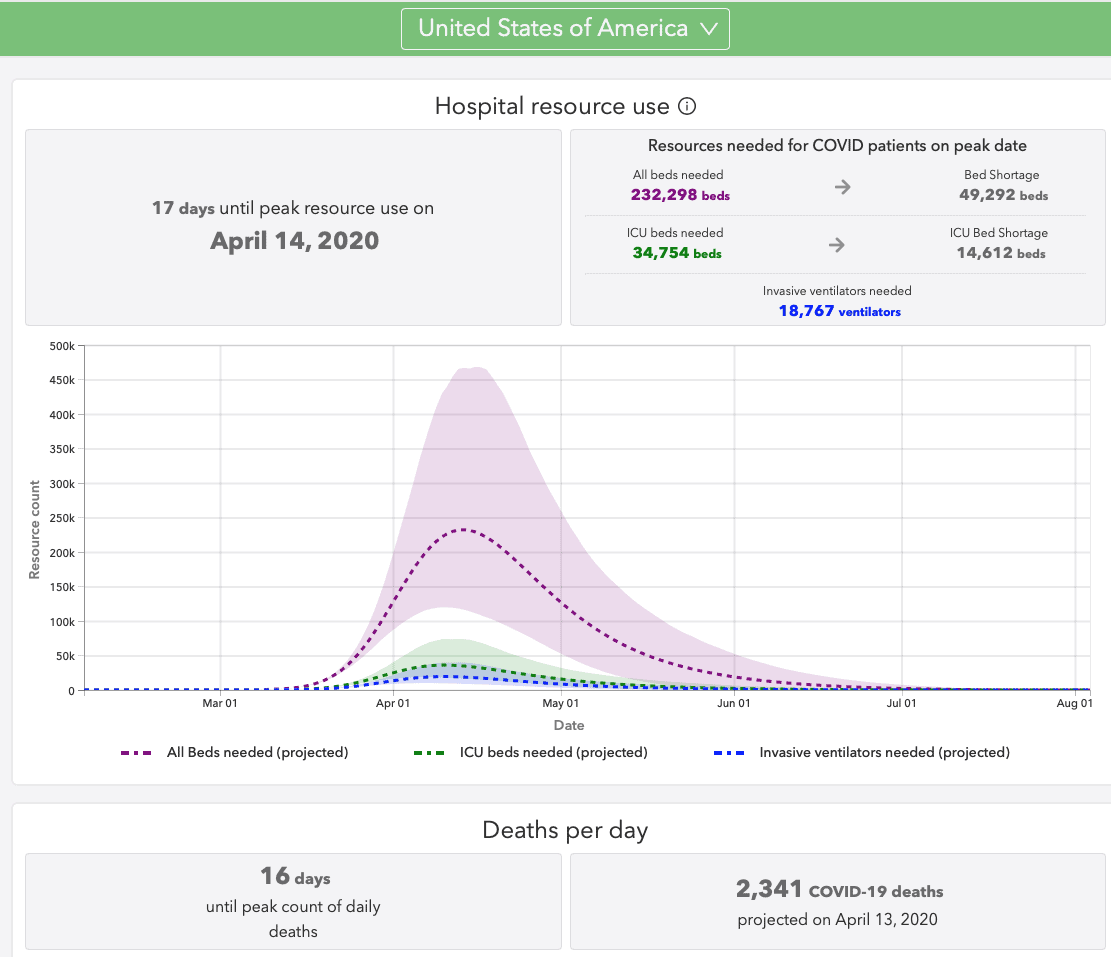 Good doctor level video "Clinical Update on COVID-19 and SARS-CoV2 – March 12, 2020" from Lynn Fitzgibbons MD, Santa Barbara County Public Health, USC https://youtu.be/lF0xkXHp7SI
Taiwan only has had 169 cases. (which has the population of 1/2 of CA) Taiwan 23 million
California 40 million
Texas 25 million
New York State 20 million
paper by Dr. C Jason Wang which details what they did from making a command center, looking at mask availability and distribution, screening people coming into the country, tracking down cases, fining people from breaking quarantine.
my #1 take-home from this: Check your temperature before you go out. If it is elevated, then self-quarantine. https://cdn.jamanetwork.com/ama/content_public/journal/jama/0/jvp200035supp1_prod.pdf?Expires=2147483647&Signature=bIZCLS7ZLWTJd~U~H40JgiEGdFb3ggVUJpBvJ7KdANK7HgK1zaj4uWHvqweGym1nWfO~nXt9Y5i1vX79pF7zjjqfzmJAy3udTdpVVZQe07xnQIPcBMXLwZ5XjgTO8yKFXVIpxsXhrmOu8sGSpKiEmQ86ZCKfOTar7fMAGmUCtjiYVFwf31K3REWAA-r3hZyoZpqz3QKpVgpsRpF9fV9thQCq0~yvbvRKTH4PcoB~CZgmXH7rpVb6bILXQn5zBCphf6pyLAa4zIebUEKfCdCYdSdi9LeIEUsesqsYpNWgHJcr4K1LC0hFlst0RHQz-vZ7I-OvrX~5jel6zjjtuDQzjQ__&Key-Pair-Id=APKAIE5G5CRDK6RD3PGA
https://jamanetwork.com/journals/jama/fullarticle/2762689
Watch this video on how to contain COVID via Public Health measures, talk by
Dr. C Jason Wang, Stanford
watch Dr. C Jason Wang's Stanford Children's Hospital Grand Rounds detailing how Taiwan contains COVID (Public Health containment) such as measures at the airport, a command center, organizing mask distribution http://med.stanford.edu/pediatrics/education/grandrounds/PGR2020-MAR20.html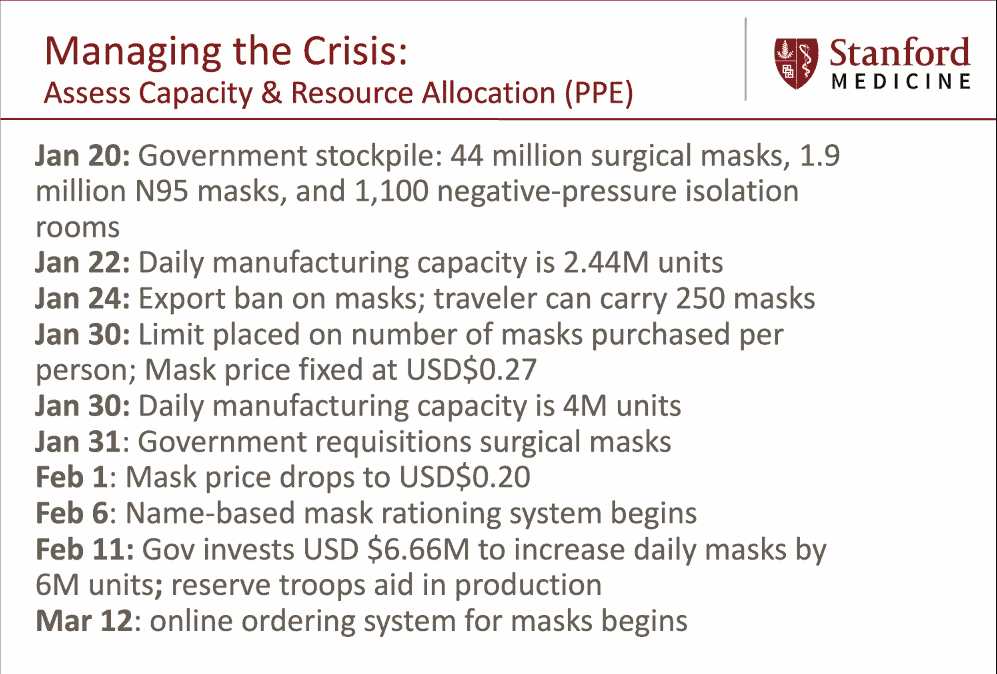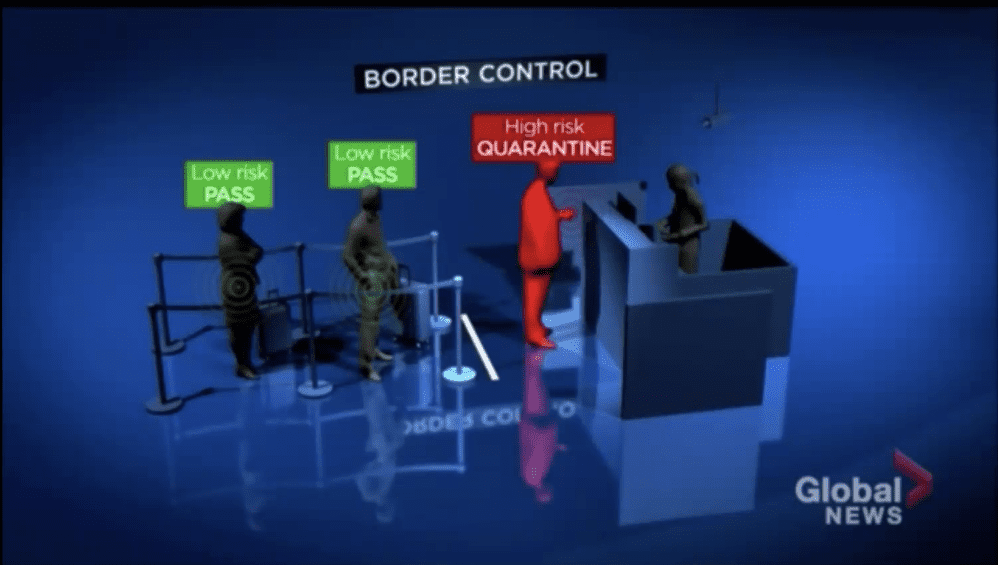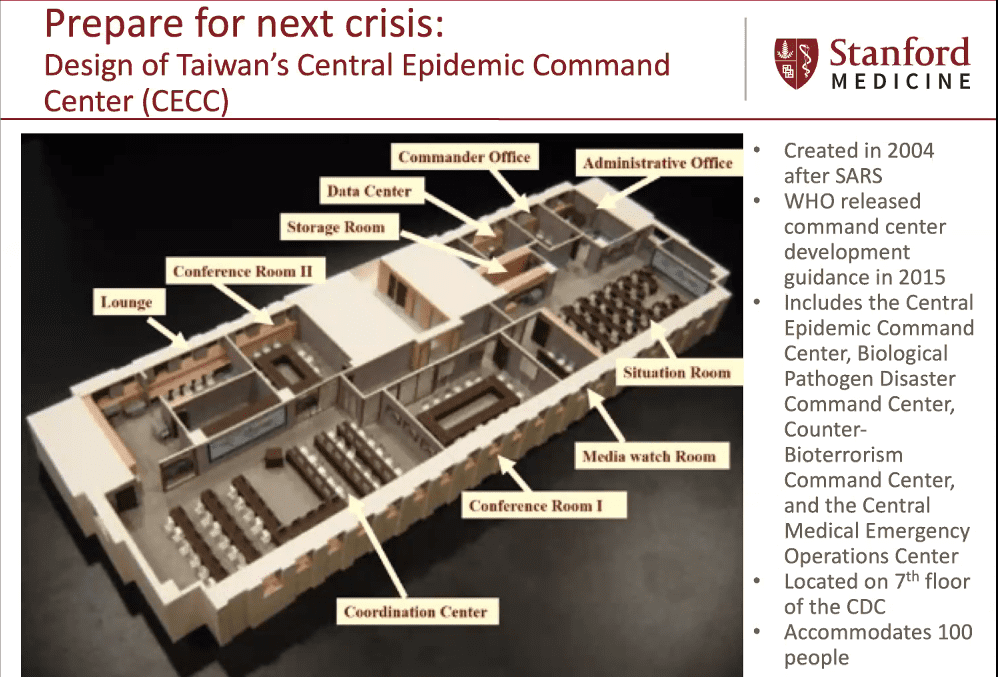 For fever, start with acetaminophen and avoid ibuprofen and NSAIDS, if possible 3.19.20
start with acetaminophen. BUT know that too much acetaminophen can hurt your liver. and do NOT stop NSAIDS if you are prescribed by your doctor unless you consult your doctor first.
The risk is theoretical based on COVID attaches to ACE2 and that ibuprofen and NSAIDs increase ACE2 receptors. However, Rachel Graham PhD, a virologist at University of North Carolina School of Global Public Health. and one of the researchers who discovered how the coronavirus binds to cells, the evidence that taking ibuprofen increases these receptors is almost nonexistent.
However, Dr. Angela Rogers, a pulmonologist at the Stanford University Medical Center and chair of its intensive care unit's COVID-19 task force said that acetaminophen is the go to medication in the ICU because NSAIDs can cause kidney damage and acetaminophen does not have that risk.
Social distancing versus isolation vs quarantine
social distancing = distancing to protect yourself and others
isolation = distancing to protect yourself and others withOUT having a +COVID test
Quarantine = you have been tested and tested POSITIVE for COVID and you are mandated to stay at home/away from others
Cloth re-usable 3 layer mask, if you can sew
for those of you who can sew… Make sure you are doing the 3 layer and NOT the 2 layer mask.
https://www.makershabitat.com/blogs/the-maker-s-habitat-blog/diy-fabric-mask-tutorial
https://mothership.sg/2020/02/taiwanese-doctor-cloth-face-mask/?fbclid=IwAR11Y4toVHBbfzwWdQYk1f6Jz23I3HxKAxE_rYkIBMhqexB4vbiCtulYivs
to be used for "everyday" when you do NOT know if someone has COVID e.g. grocery store or any line in a public place e.g. pharmacy.
If you are around someone that has COVID and in the hospital, then do NOT use a cloth/re-usable mask.
But this could work for outpatient settings when you do NOT know whether someone has COVID yet.
Wash fabric masks each day
Replace non-woven layer with a fresh one– do NOT reuse!
Do not wear masks if you have respiratory illnesses
Save the surgical masks for medical professionals who are on the front line of healthcare, and use them only when you need to
Washing your hands often– it's more important than wearing a mask.
For the non-woven layer, some examples:
coffee filters, dried out wet wipes (unscented), brand new polyester floor wipes (dry ones), or even non-woven gauze from the pharmacy.
Fabric masks need to be washed and worn carefully like you would a surgical mask:
Wash and dry your hands before putting on and removing the mask
Be careful that you don't contaminate the inside of the mask
Practice good hand hygiene as best as you can!
Any type of masks (N95, surgical, fabric) shouldn't be worn too long. When it gets damp, you should replace it. So, if you're sweating a lot, prepare extra masks.
Use a surgical mask if you are:
Sick and have to be around other people
Healthy and you're heading to a very crowded area or a place with COVID tested positive people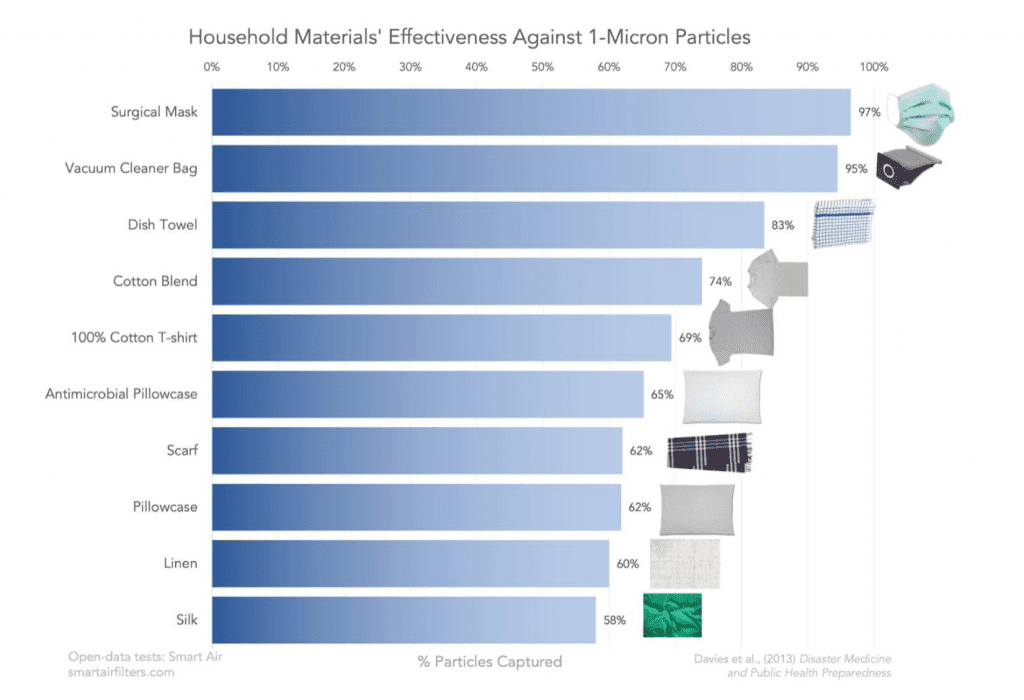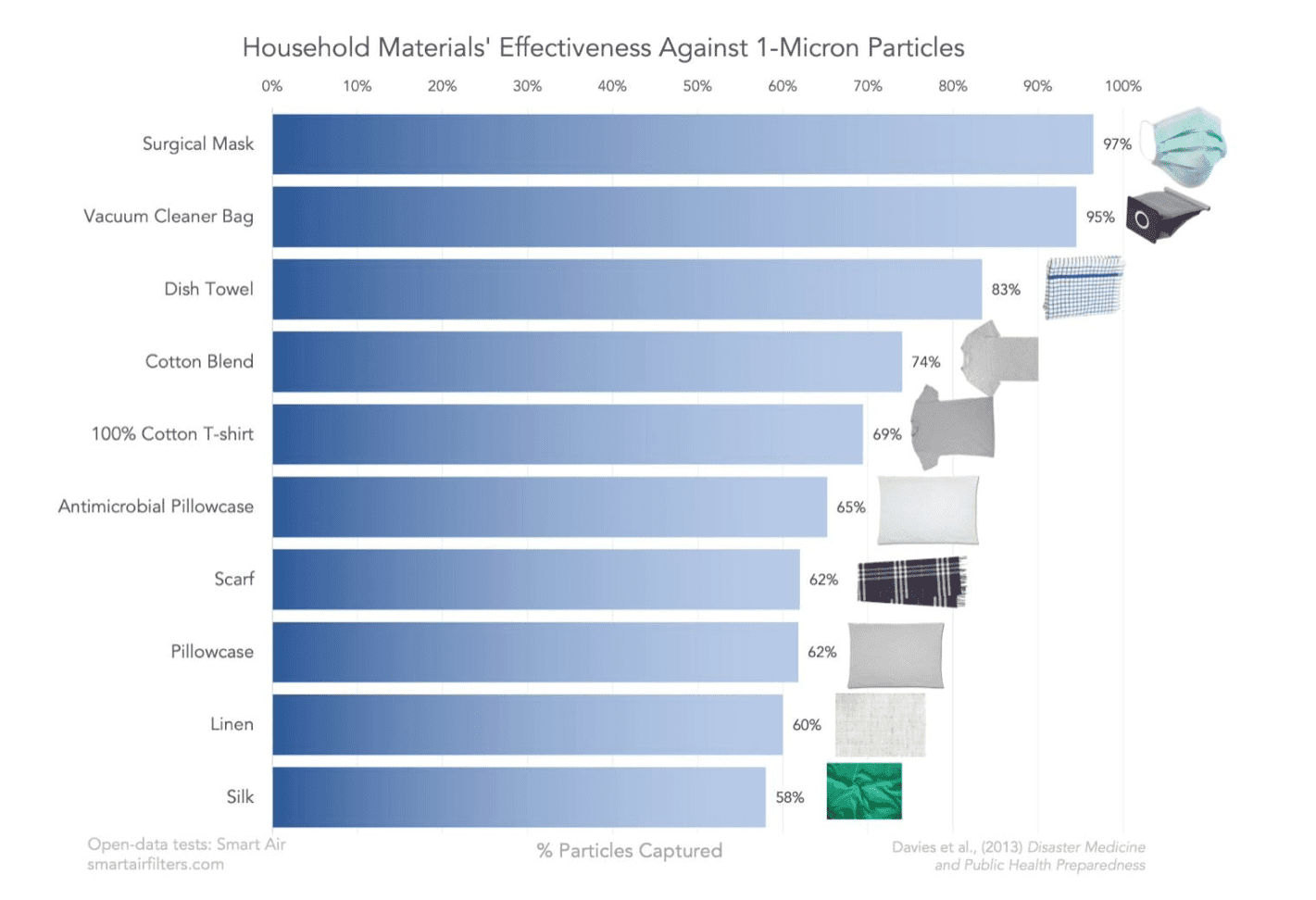 How long can COVID survive in air, on surfaces?
This is based on lab research and may not reflect the "real world." but here's a great summary.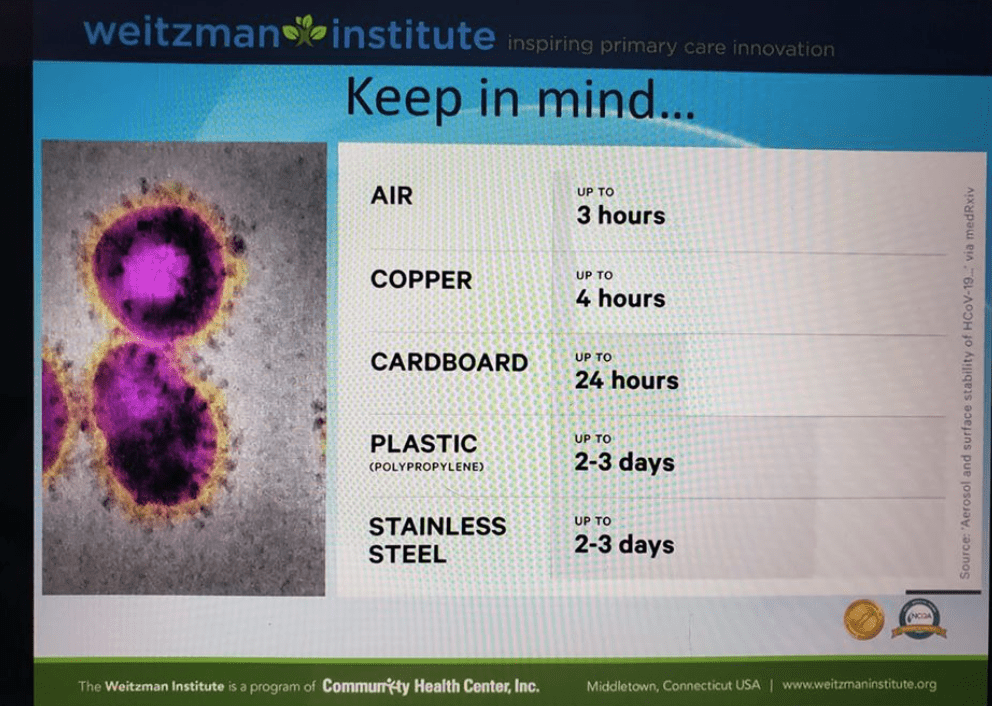 do NOT throw away n95, re-use! You can steam, bake, UV, or just wait 5 days!
from Stanford Anesthesiology 3.22.20 Larry Chu, MD, MS, Professor of Anesthesiology, Perioperative and Pain Medicine and Director of the Stanford Anesthesia Informatics and Media (AIM) Lab.
https://m.box.com/shared_item/https%3A%2F%2Fstanfordmedicine.box.com%2Fv%2Fcovid19-PPE-1-1
158F heating in an oven for 30min, or
Hot water vapor from boiling water for 10 min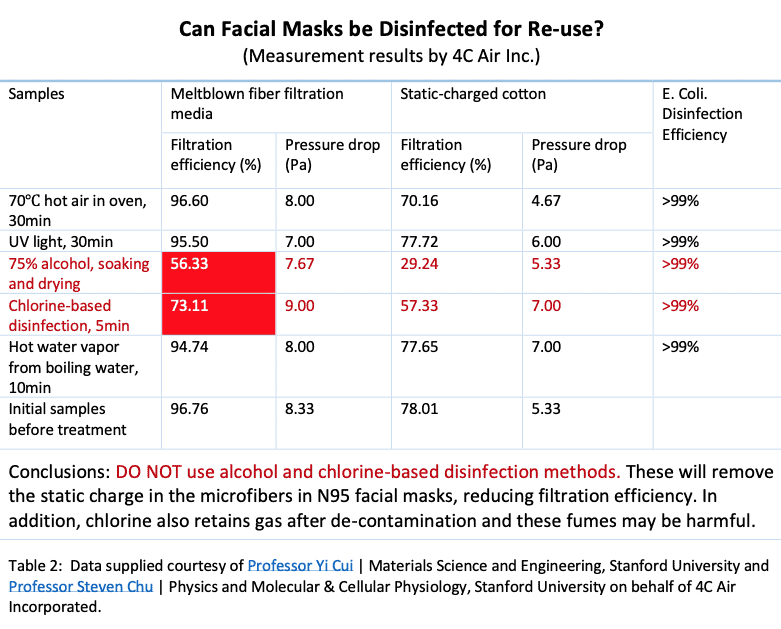 You can put the mask aside for 5 days and re-use. Someone suggested that we color-code the masks and on Monday you can only wear the monday mask, then put it aside in a bag, then Tuesday, etc.
Duke Health is using hydrogen peroxide vapor for 4 hrs. details here: https://www.newsobserver.com/news/coronavirus/article241520921.html?fbclid=IwAR0i9z_5ZBnWr2ipMVO8rmwUa6NMTvLi_-X82UNfoVEwevwGln89SZJ9vO0
https://www.safety.duke.edu/sites/default/files/N-95_VHP-Decon-Re-Use.pdf
This article details how your hospital can make a UV room to decontaminate the N95 and re-use them! Thank you Nebraska Med https://www.nebraskamed.com/sites/default/files/documents/covid-19/n-95-decon-process.pdf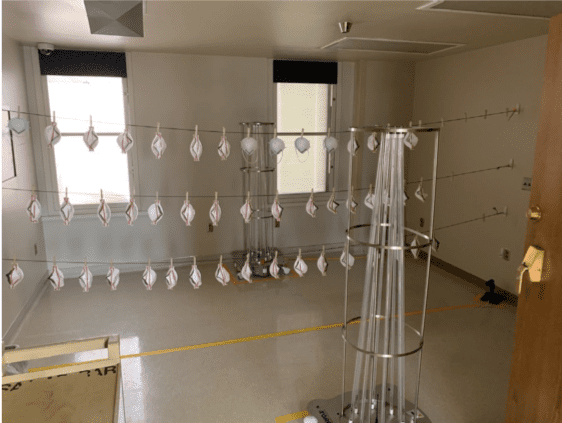 Intubation box!
ER and other docs, have you seen this? https://sites.google.com/view/aerosolbox/design?authuser=0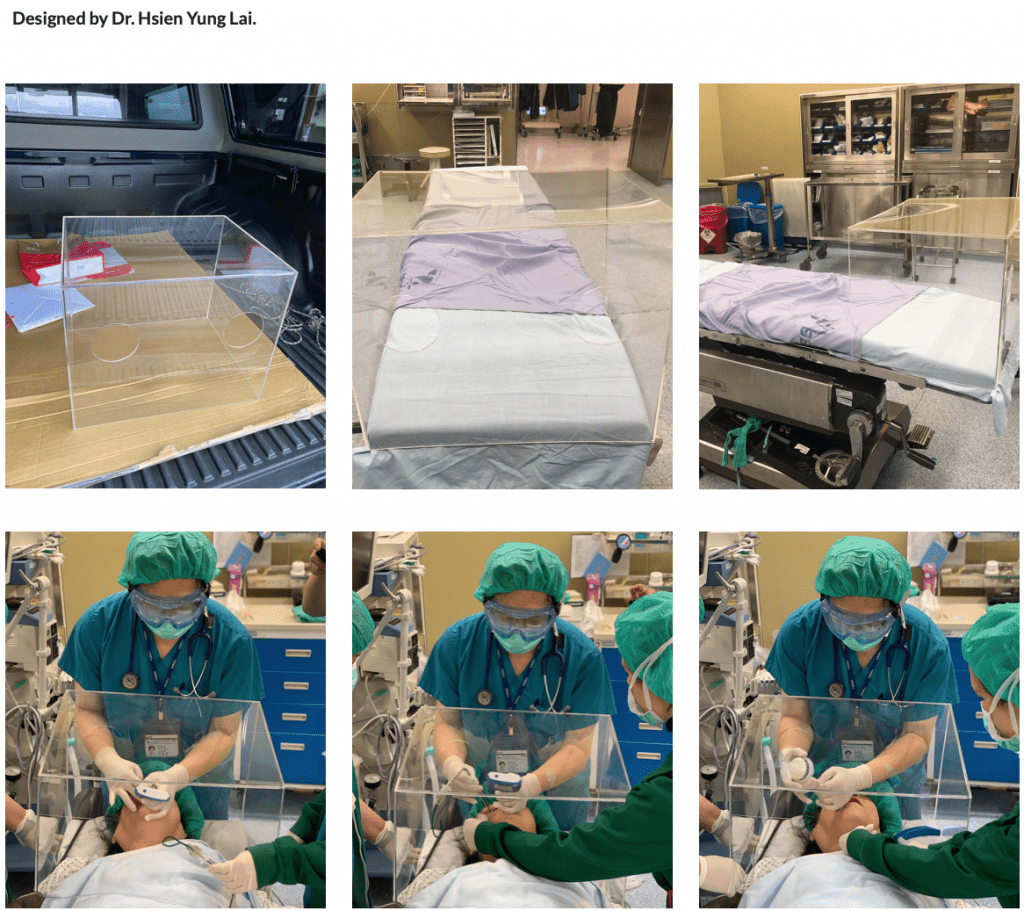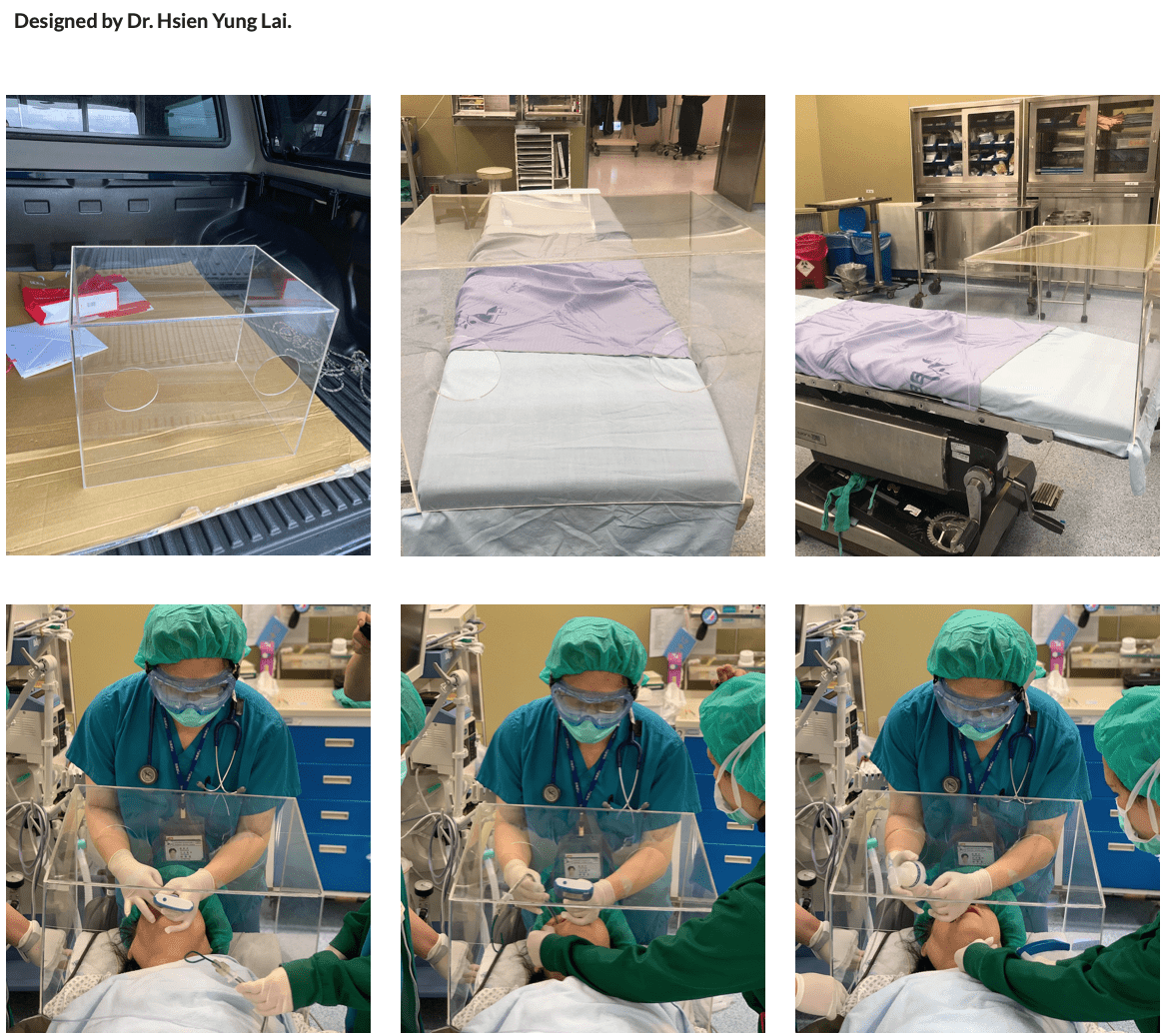 3D printed face shields, make or request
go to https://budmen.com to request or download the 3D printer instructions.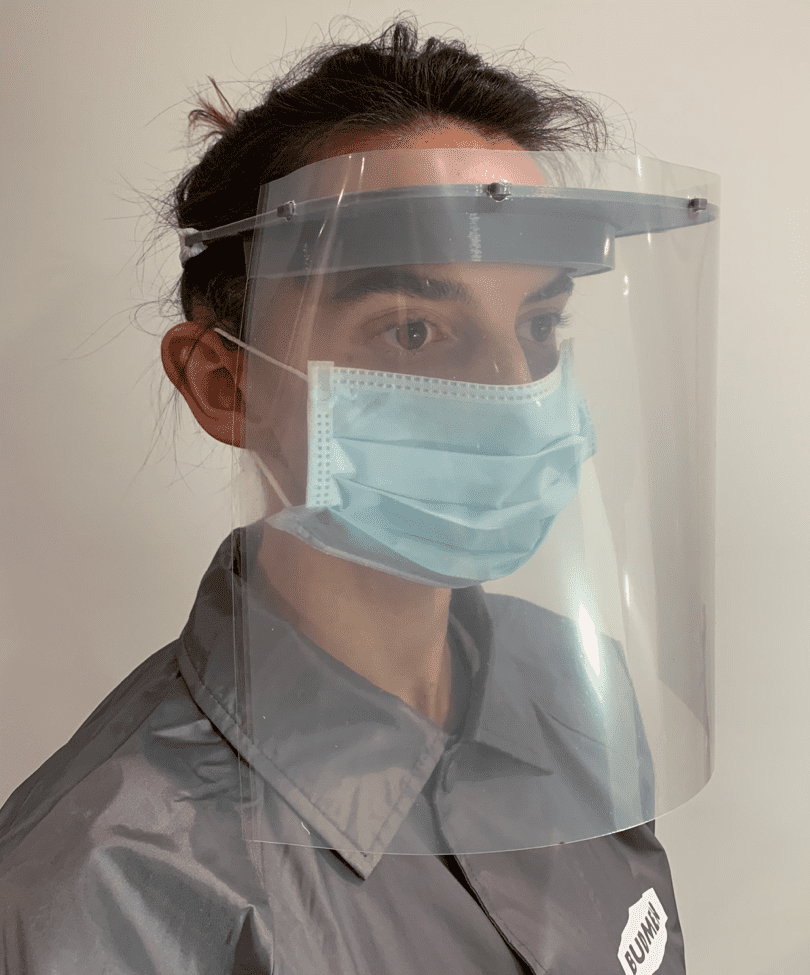 Great but long summary on COVID by Michael Lin, PhD, MD
https://drive.google.com/file/d/1ZaiDO87me4puBte-8VytcSRtpQ3PVpkK/view?fbclid=IwAR2Fr7VDlv4pla2gv3qp_Z0JLkO9sEnbiXF8MVxmsm6hR-ch8TFqk6iWSx4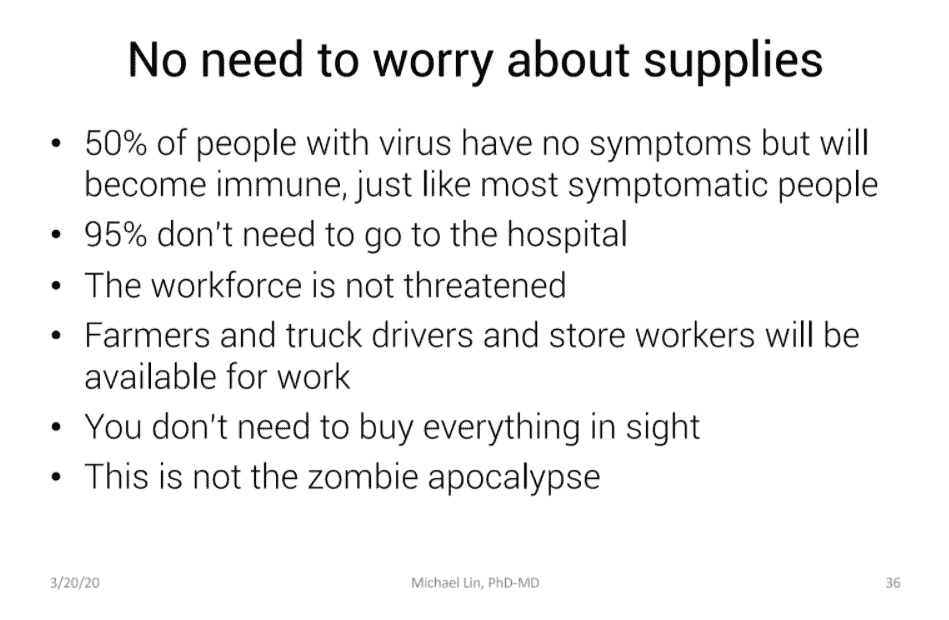 Give/Get/Make Masks/PPE for healthcare workers
http://getusppe.org
https://www.mask-match.com
https://budmen.com 3D facemakes, make or request
Video on Gloves
TLDR: gloves give a false sense of security. Don't touch your face in public (assuming your home is clean/safe and you washed your hands). WASH your hands. https://www.facebook.com/thenational/videos/891466761285877/
TLDR: gloves give a false sense of security. Don't touch your face in public (assuming your home is clean/safe and you washed your hands). WASH your hands. https://www.facebook.com/thenational/videos/891466761285877/
How Hong Kong and Singapore define "close contact" Who to quarantine in healthcare
"In Hong Kong, "close contact" means fifteen minutes at a distance of less than six feet and without the use of a surgical mask; in Singapore, thirty minutes. If the exposure is shorter than the prescribed limit but within six feet for more than two minutes, workers can stay on the job if they wear a surgical mask and have twice-daily temperature checks. " reference https://www.newyorker.com/news/news-desk/keeping-the-coronavirus-from-infecting-health-care-workers
Asymptomatic prevalence 18%?
In Wuhan, 72,000 tested only 1% never had symptoms. Diamond Princess Cruise 18% asymptomatic. reference https://www.newyorker.com/news/news-desk/keeping-the-coronavirus-from-infecting-health-care-workers Atul Gawande MD
Scuba Mask into CPAP mask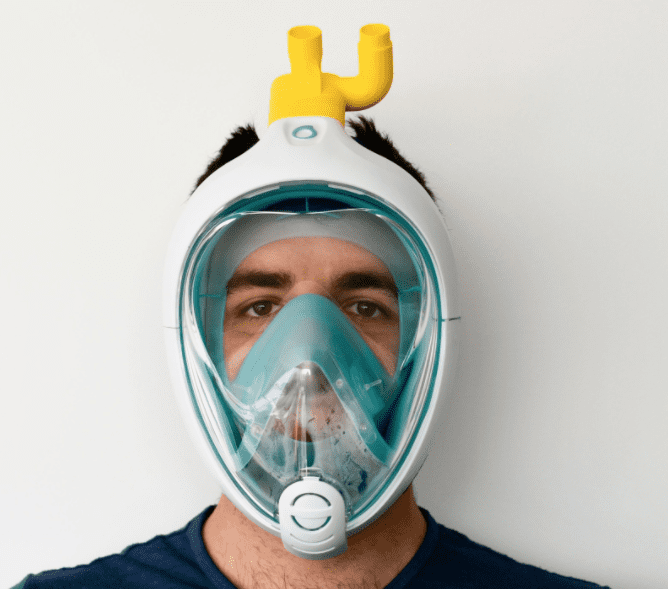 Resources
https://www.endcoronavirus.org by
New England Complex Systems Institute (NECSI) and collaborators. Our goal is to minimize the impact of COVID-19 by providing useful data and guidelines for action.
Our research team has co-faculty, students and affiliates from MIT, Harvard, Brandeis and other universities nationally and internationally. We are working around the clock to monitor and communicate the current state of the COVID-19 epidemic.
Resources for healthcare workers
U of Washington's protocols https://covid-19.uwmedicine.org/Pages/default.aspx
This information is for general informational purposes only and are NOT a substitute for professional medical advice. Always seek the advice of your doctor/primary care provider before starting or changing treatment.